The Weight of Things is commissioned by Urban Wilderness as part of the Wastelands project. 
The work is currently on show at Keele University in from November 8th 2020 and will be on show for three months. The work is located in the woods behind the Old Hall near pool 3. 
Photo below by Jenny Harper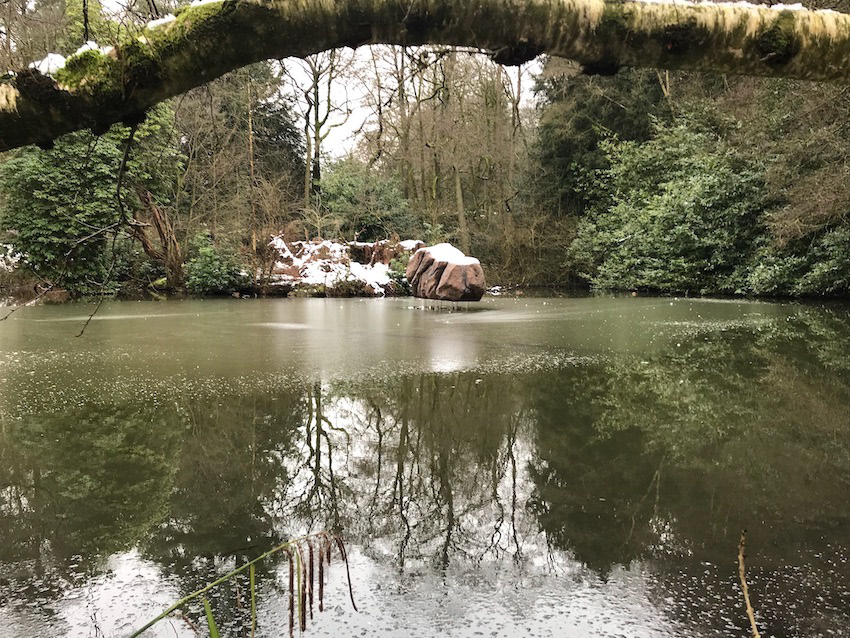 This new piece of work responds to 2020 as it has been very different in many ways.  There have been lots of challenges and we have had to find new ways to adapt, new ways to explore, new ways to work. There has felt a weight of things, a sense of uncertainty and unknowing. More than ever there is a feeling, a moment, and when that's past, we are waiting for the next moment to happen. 
This is very much a collaborative piece of work. The concept of the work is myself with the sculpting been lead by Mally Mallinson and myself. Ross Ankers is working on the supporting Structure for the rock along with myself.
The sculpture of the rock, that looks as if it's comes from the near by rock formation of the Roaches in Leek. This is placed as if hovering above water level of the pond; capturing a moment that is in a state of flux, unknowing and uncertain, both poetic and jarring, floating, crashing. The work pays homage to Rene Magritte's painting 'Clear Ideas' painted in 1958. Ironically the word 'clear' in terms of the current media and direction has come under scrutiny. Often leaving us with the weighted feeling of anxiety.
The sculpture is also suggestive of a symbol of hope, something that is defying the rules, gravity, over coming something against all odds. 2020 has brought a lot of struggles, but we have also seen success stories despite the expected outcome.
Placing a rock back into a green space celebrates and acknowledges the word 'wasteland'. As Ben Anderson, a Historian from Keele University, says:
"mountaineers, ramblers from the 20th Century describe mountains as wastelands, unproductive places".
This group of people wanted to look at mountains how they could use them for leisure purposes and how they could access the land. More than ever, people are making use of local brown and green spaces. 
Photos of the Rock creation by Urban Wilderness, Jenny Harper 
The project is funded by Arts Council England. Special Thanks to Arts Keele (Jane, Rob, Kerry), ArB Tree Care, Easy Composites. 
Many Thanks to the amazing install team, Urban Wilderness, Ross, Mally, Bob, Craig and Stuart. 
Below Photos of the Rock by David Bethell